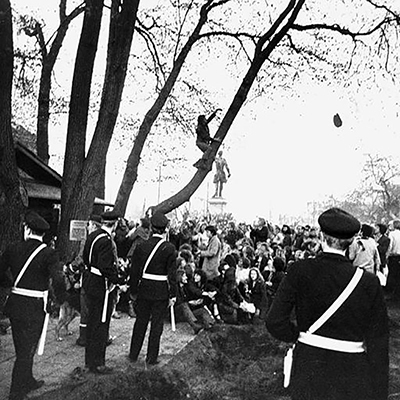 The vault by the exit to Arsenalsgatan. Look for the sculpture that looks like a stone tree trunk.
The stone elm trunk is reminiscent of the battle over elms in Kungsträdgården, in May, 1971. The marks in the trunk also serve as a reminder. Someone actually started to saw into one of the elms.
The Elm Conflict was a conflict between demonstrators and police, which took place in 1971 in Kungsträdgården, Stockholm. 1300-year-old elms were to be cut down to make room for one of the metro exits. That's when all the fuss began! Thousands of Stockholmers demonstrated for a week and slept in tents and hammocks overnight to protect the trees. The construction was delayed and eventually received a new address – Arsenalsgatan 10.